About Steve
---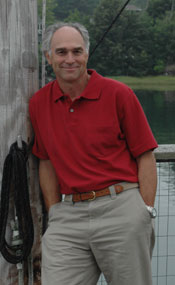 Although my degree is in Civil Engineering, my profession has always been yacht design. In 1973, fresh out of university, I joined the C&C Yachts design group in Oakville, Ontario. After seven enjoyable years at C&C I ventured off to start Steve Killing Yacht Design, initially to design sailboats but, as you can see from the projects listed on this site, eventually to include many varied types of vessels.
What draws me to a particular project? High profile events like the America's Cup are exciting, but variety is what makes life most interesting. Each project has its own set of parameters and the challenge is to produce a final product that meets the technical requirements without violating my own and the client's aesthetic requirements. I guess I'm always searching for the elegant solution. I enjoy being faced with an entirely new technology and researching as required to apply that technology to the problem at hand.
The other rewarding aspect of my work is meeting new clients who bring their own excitement and expertise to the project. The blending of ideas from various sources always makes a better, richer design.
---